29 Seniors Graduate from PCA with Over $3M in Scholarship Offers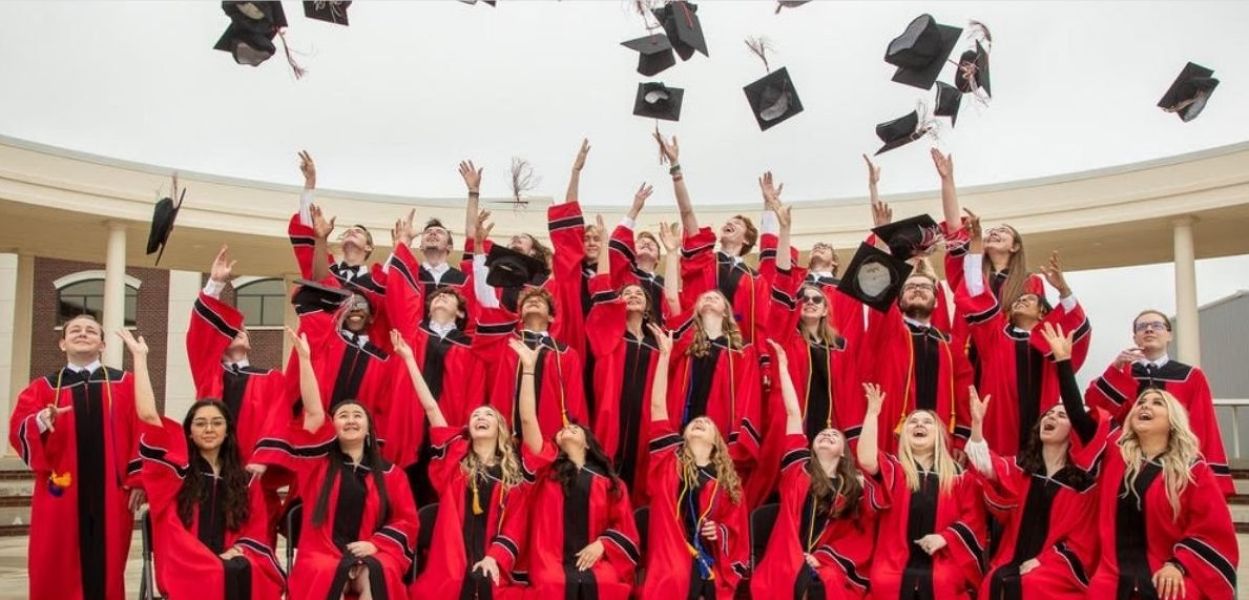 Twenty-nine seniors who were offered a combined $3,088,800 in four-year merit scholarships graduated from Pinnacle Classical Academy on June 4.
Student speakers at the ceremony included Annagrace Earwood (valedictorian), Daniel Briceno (salutatorian), and Hope Allen (student body president).
Robert Luddy, a business and educational entrepreneur who founded the industry-leading commercial kitchen ventilation company CaptiveAire Systems, was the commencement speaker. Luddy encouraged the graduates to be grateful for their family, community, and alma mater, to seek happiness through service, to persevere toward their aspirations with grit and determination, and to work daily to improve themselves.
"If you want to change the world, change yourself," Luddy told the graduates.
Addressing parents, grandparents, and other family members, Hope Allen, the student body president, said, "You have all invested your time, effort, and wisdom into our lives and have helped to lead this senior class to where we are today.  We appreciate your support, advice, and overall unconditional love."
Annagrace Earwood, the class valedictorian, encouraged her classmates to ask themselves, "Where is your treasure?"
"Is it in your academics, your friends? Maybe it's in your faith in God," said Earwood. "I think I can speak for all of us in saying that we will treasure the time that we spent here at this place: the relationships we've built with our peers and with our wonderful teachers, the endurance and determination we built through quarantine."
"It is OK to be wrong and to own up to your mistakes," Daniel Briceno, the class salutatorian, said in his address. "Thank you, parents and teachers, for letting us all make mistakes. And most of all, thank you for allowing us to learn from our mistakes and to move forward."
In her concluding remarks, Dr. Shelly Bullard, the school's headmaster, told the seniors that "many of you have received your associate's degree from Cleveland Community College in the last few days, along with your high school diploma."  
"There is potential you could earn your bachelor's degree within the next 18 months," she continued. "That's incredible, and it's an enormous savings to families here tonight.  Making college attainable and affordable has been the priority of our vision and mission for Pinnacle. Seniors, you are part of a legacy in Cleveland County, and your names will forever appear prominently on our school's Lyceum walk."