Congressional candidate talks fleeing communism at PCA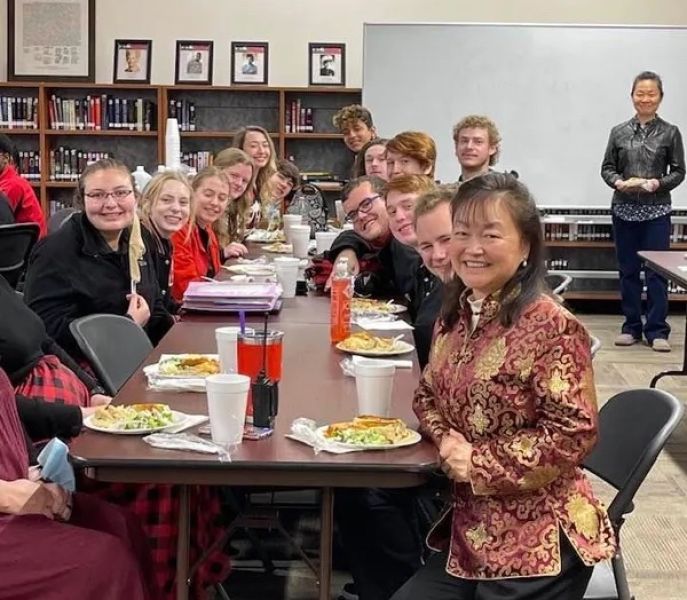 Lily Tang Williams still remembers the day she left China.
When she touched American soil for the first time, she knew she was on her way to having a better life. Although she is proud of her heritage, she said it was safer to flee to the United States than to spend the rest of her life oppressed through communism.
According to victimsofcommunism.org, "Williams directly witnessed Chairman Mao's takeover and the horrors his regime inflicted. She grew up experiencing extremely poor living conditions, food rationing, political and social chaos and, of course, communist indoctrination."
Now the Republican candidate to represent New Hampshire in Congress uses her public speaking skills to advocate against and educate people about the dangers of communism. She recently used her platform to speak to students at Pinnacle Classical Academy.
Jeff Ziegler, dean of academics at Pinnacle, said Williams was well-received and students were captivated by her early hardships in life.
"I think the kids were extremely attentive at her witness of the hunger she experienced, the extremely poor living conditions and the other things she went through growing up there," said Ziegler. "It was a powerful talk."
The meeting was two years in the making as COVID-19 derailed their plans. Williams, who is also chair of the New Hampshire Asian American Coalition, said she is proud to be an American and wants students to understand the significance of American history.
Williams is also on the speaker bureau for the Victims of Communism Memorial Foundation, which is how administrators from Pinnacle located her.
Zeigler said the school was appreciative of Williams for giving students a personal, in-depth history lesson.
"A few years ago we reached out to the VOC for a speaker who had experienced communism," said Zeigler. "We feel it is important because communism was one of the more important trends in the 20th century and still is today. There is nothing like an eye-witness account."
Williams recalls what it felt like when she left her homeland. It was a humble beginning for Williams, who at the time, was a young adult with just $100 in her pocket.
"I decided to plan to flee," said Williams. "It's not that easy to pack up your bag. You need to get permission to get a passport and that took me two years. When I first came to this country, May 11, 1998, I could not speak English well. I was in debt to my American sponsor. I owed him $1,200. I didn't start ground zero. I started in the negative. Now I am happily married with three beautiful children."
Pinnacle is a charter school that has more leniency in what lessons they can offer. In addition, Ziegler said it was important for the school to have an in-person history lesson.
"As a public charter school, we have been granted freedom by the state to offer an enhanced curriculum," said Zeigler. "We offer classes in Latin, logic and we have an emphasis on the American founding. We want our students to leave here with a greater understanding of the roots of American citizenship."
—
Originally published by The Shelby Star on February 14, 2022
Latrice Williams can be reached at 704-669-3339 and This email address is being protected from spambots. You need JavaScript enabled to view it..