Pinnacle Press Publishes First Book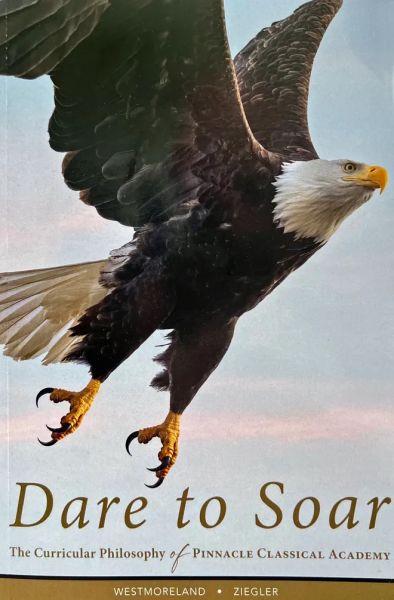 Pinnacle Press, the imprint of Pinnacle Classical Academy's Classical Foundations Program, has published its first book, Dare to Soar: The Curricular Philosophy of Pinnacle Classical Philosophy.
Written by Pinnacle co-founder Wes Westmoreland and Dean of Academics Jeff Ziegler, the book explores what a charter school is, what classical education is, and what makes the school distinctive. 
Published through a private grant at no cost to the school, the book includes a foreword by Kerry McDonald, Senior Education Fellow of the Foundation for Economic Education, and an afterword by Debbie Clary, co-founder of Pinnacle Classical Academy. The volume also includes two works that helped influence the educational vision of the school's founding board: "The Lost Tools of Learning" by Dorothy Sayers and "Teaching Johnny to Think" by Leonard Peikoff.
"This is the year that Pinnacle will celebrate our tenth anniversary, and the beginning of that celebration will be to tell our story of bringing parents, teachers, and a community together to build a successful school with a curriculum that works for all students," said Clary.
Pinnacle Classical Academy is a free public charter school (K-12, 1,077 students) located in Shelby. Pinnacle students' proficiency rate on state tests exceeds that of all 115 of the state's local school districts, and the 31 seniors in the class of 2022 have already been offered a combined $2,272,720 in four-year scholarship awards. On March 14, the school will be holding its lottery for new K-12 students for August; lottery application forms are available online at pinnacleclassicalacademy.com.